Types of Secured and Unsecured Personal Loans

Download Audio Version
Personal loans are offered to individual borrowers rather than companies and corporations. Financial institutions such as commercial banks, credit card companies, savings and loan associations, and credit unions offer financing. Loans come in the form of unsecured and secured debt.
Loan Types
The first type (unsecured) is one for which collateral is not required. Borrowers usually use the money to finance small purchases, vacations, home renovations, medical bills, or unexpected expenses. Borrowing may involve setup fees, monthly fees, and exit penalties for early prepayment.
Also called signature loan, unsecured debt comes with a higher interest rate and shorter repayment term. Because financial institutions face a higher risk, it is more difficult to meet the lending criteria. Likely candidates have very good or excellent credit and substantial income, be it salary, rental income, dividends, interest received, or savings. Other sources of income include disability benefits, sale of principal residence or real estate, and portfolio income.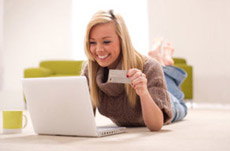 Unsecured
There are two major types – revolving line of credit and fixed-interest installment loans. Credit cards, medical bills, and auto, student, and payday loans are categorized as unsecured debt. There are different types of credit cards, including no annual fee, rewards, low interest, and department store credit cards. They are offered with different perks such as concierge service, insurance policies, extended warranty, free airfare, and hotel stays. Some issuers also feature discounted purchases, flowers, movie tickets, and more. Discounts may not be available for internet purchases. Many credit card issuers offer roadside assistance, including breakdown towing, lock-out assistance, fuel delivery, and flat tire changes. Hazard weather services, emergency accommodation, and car rental are also offered.
Auto financing is another type of personal loan offered by financial institutions and car dealerships. The money can be used to purchase a new or used vehicle. This type of financing is offered to borrowers with good or tarnished credit, but in the latter case collateral is often required. Student loans are another variety, offered by financial institutions and government authorities. The money is used to pay tuition and board, textbooks, school supplies, and other expenses.
Personal loans also come in the form of secured debt whereby borrowers pledge a valuable asset as collateral. There are different types of collateral, including vehicle, real estate, jewelry, money in a savings account, and home equity. Whether an asset is liquid and how much it costs determine the amount of financing, the interest rate, and the terms.
Secured
There are different types of secured debt, including mortgages, repossession, non-recourse loans, and home equity lines of credit. Mortgages are the most common type of secured debt, which is backed by some real estate property. They come with a lower interest rate because banks face a lower risk when collateral is pledged. This is long-term financing, with repayment terms of 15, 20, or 35 years. There are different types of mortgages, including adjustable rate, fixed rate, interest only, and balloon loans. The 2-step mortgage comes with a floating interest rate. The rate remains the same for a specified period and then adjusts. The borrower can choose from a fixed or variable interest rate.
Other types of personal loans include multiple term, open and closed, and 6 month convertible mortgages. A secured line of credit is yet another variety. The money is used for car purchases, home improvements, investments, and other purposes. Lines of credit are offered with a low interest rate, but there are legal and appraisal fees. Financial institutions usually offer up to 80 percent of the value or purchase price of the real estate property. Up to 90 percent is offered for second mortgages.
Related Articles
Consumer Debt - Secured and Unsecured Types
Consumer debt is money owed as a result of buying services and goods. These items don't bring profit and are consumed. Unlike mortgages, the interest payments on consumer debt are not tax-deductible. Consumer debt allows borrowers to pay their ongoing expenses (rent, phone and electricity bills),...
Unsecured Loans for Salaried and Self-Employed Professionals
Unsecured loans are offered to trustworthy customers with a good payment and credit history. There are income, age, and other requirements to qualify. Applicants should be of legal age, and financial institutions request a photo ID, driver's license, passport or another document to prove this. The...
Secured Loans Types and Benefits
A secured loan can take different forms – mortgage, non-recourse loan, title and secured car loans, and pawnbroker loans. The main difference between unsecured and secured debt is that the latter is backed by some valuable asset, known as collateral. There are different types of collateral...
Types of Unsecured Debt Offered to Individual and Business Borrowers
The term unsecured debt refers to a loan offered by a financial institution and not backed by collateral. If the borrower is unable to keep up with payments, the bank has to file a lawsuit to get the money back. Financial establishments face a higher risk when the loan is not backed by some asset....
Follow Tessa on
Google+